Winter's back! No. 2 Gully, Ben Nevis
It was pleasing to see that sometime this morning, winter had made a return to the Highlands, a theme which continued throughout the day and will do for the rest of the week.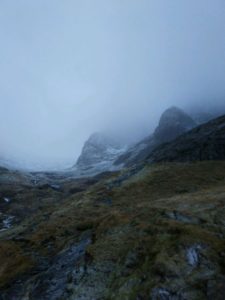 I was out with Ceri and Richard who both had climbed in winter before. They were after a refresher and a kick-start to their winter season, so we ventured up to Coire na Ciste on Ben Nevis, one of the few winter climbing venues that has managed to hold on to the snow over the past week, and made our way up to No. 2 Gully. Throughout the approach, fresh snow was falling and settling on the rocks, as far down as the CIC Hut, making for a welcome wintry sight. Something we've not had for what feels like a wee while.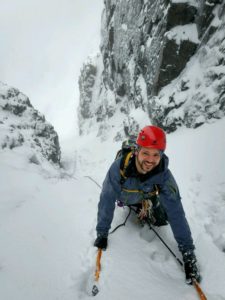 Travel up to the foot of No. 2 Gully was fairly straight forward, as the snow apron had softened quite a bit over the past few days. There was also a thin layer of soft fresh snow on the surface, allowing a quick but safe approach up to the mouth of the gully. From here, Ceri and Rich led themselves up the route, with me alongside offering coaching.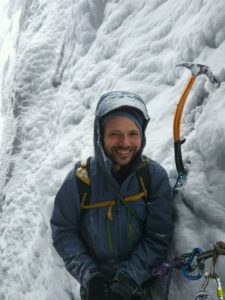 The route has suffered a bit from the recent thaw, but despite a bit of soft ice, and a couple of avoidable holes, was in reasonable condition throughout.  The pair did a fine job in all the technical and physical aspects of safely getting themselves up the route, and today proved to be more of an MOT for them, with a few minor pointers and areas for refinement thrown in. I was working for Peak Mountaineering today.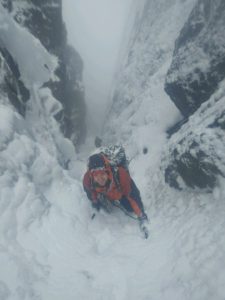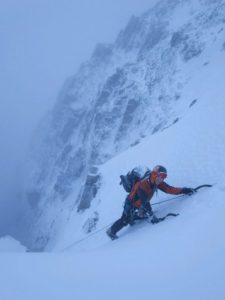 Very quiet today on the mountain, one pair soloed past us, and we bumped into a couple of Swiss climbers on the summit plateau, who were out enjoying the weather. That was all we saw, but then again, visibility was quite poor.  Further snow fall on the cards for tonight, tomorrow night and Wednesday, which will all be very welcome.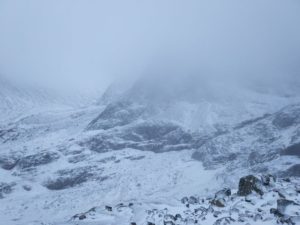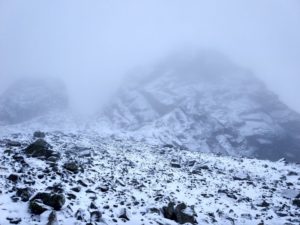 https://westcoast-mountainguides.co.uk/wp-content/uploads/2017/01/No-2-Gully-Ben-Nevis-09.01.17-03.jpg
800
600
Ken Applegate
https://westcoast-mountainguides.co.uk/wp-content/uploads/2014/10/logo_wcmg.png
Ken Applegate
2017-01-09 19:10:25
2022-05-10 08:21:58
Winter's back! No. 2 Gully, Ben Nevis